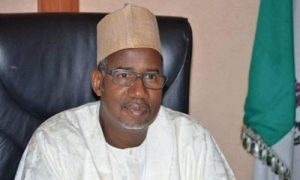 A civil society group identified as "Coalition of Civil Society Organizations for Transparency and Good Governance", on Wednesday, noted that lack of good leader has an effect on Nigeria's development.
The statement was made by the Chairman of the North Central zone of the coalition, Joseph Terngu at a press conference at Hotel Victoria de Chateau, located along Otukpo road, Makurdi.
Terngu while speaking on Wednesday charged the Governor of Bauchi State, Bala Mohammed, to contest for presidency in 2023.
He said, "Nigeria has continued to be plagued by myriads of problems ranging from insurgency, banditry, kidnapping, economic crimes to corruption which have retarded our progress as a people given the fact that a lot of time, energy and financial resources are being expended on tackling these unfortunate problems."
"As 2023 is fast approaching, it is obvious that what we as a people need is a leader who apart from being a detribalized Nigerian, must have a track record of service, commitment and be ready to serve the people and bring an end to the myriad problems confronting our beloved fatherland today."
"Having considered many of the political gladiators on the scene today, this group is of the opinion that Bauchi State Governor, Senator Bala Abdulkadir Mohammed possesses what it takes to lead Nigeria come 2023 and turn around its fortunes for better if given the opportunity."
This is coming weeks after Governor Yahaya Bello of Kogi State was been asked to declare his interest and run for the office of president in the 2023 presidential election.
The Director-General of a group known as the North Central Coalition For Leadership, Umar Ghadaffi, made this known in a statement on Saturday.