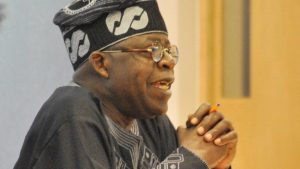 A political movement identified as Young Professionals for Tinubu 2023 has launched an initiative for Asiwaju Bola Tinubu to emerge Nigeria's next president.
According to the group which comprises some young Nigerian professionals, Asiwaju Tinubu, the All Progressives Congress (APC) National Leader has all the characteristics the country needs in a leader.
The group added that it will be easy for Tinubu to continue the progressive ideas of President Muhammadu Buhari since they both belong to the same party.
The National Coordinator of the group, Mr. Ahmed Muhammed Ibrahim added that the track record of Tinubu as a former Governor of Lagos State, as well as a thorough-bred politician, makes him the best fit for Nigeria's number one political position.
He made the submission at the formal inauguration of the group in Abuja where he noted that their aim is to work for the actualization of Tinubu's perceived 2023 presidential aspiration.
In his words, "Tinubu is a natural leader who has extended the hand of friendship to all regions of the country. He has what it takes to lead Nigeria towards prosperity.
"He has the skill to discover talent and the ability to consolidate on the achievements of President Muhammdu Buhari."
Ibrahim added that the group has been in existence for almost two years, with membership spread across the 36 states of the federation and the FCT, adding that they would continue to mobilize support for the vision.
Also speaking at the event, the Secretary-General of the group, Mr. Ishaq Muhammad, said they want Tinubu to become Nigeria's next president because he knows what to do to move the country forward.
"The president and Tinubu are core progressives who put personal benefits aside to rescue the country from the brink of collapse in 2015, so he knows what needs to be done to achieve a greater Nigeria," he submitted.
Meanwhile, Naija News reports that Tinubu himself is yet to officially declare interest in running for the presidency in 2023.
According to the APC National Leader, the task of nation-building is what he is focused on and it is too early to talk about 2023 and who takes over from President Buhari.