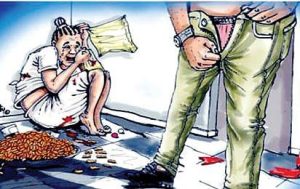 A six-year-old girl has been allegedly raped to death inside a mosque in Kaduna state.
The case of sexual assault of underage girl keeps increasing in Nigeria, a fresh case of rape allegation was reported in Kaduna state police command.
According to the report gathered from Spokesperson of the state police command, ASP Muhammed Jalige, who confirmed the incident, A six-year-old girl was allegedly raped to death inside a mosque in Kaduna.
Speaking on how the case occurred, Jalige said the body of the small girl was discovered by community members called men of the Kurmi on Friday, June 26 at about 3.20 pm which is close to the time they were supposed to converge for their Friday prayers. 6.
Jalige said no arrest has been made but that the police is investigating the matter.
''Though no arrest has been made in connection to the crime, but police detectives attached to Kurmi Mashi division of the Command have launched an investigation to unravel the misery.
Yes, the case was reported at Kurmi Mashi division on Friday. Our men in that division received a call from the people in the community in Kurmi Mashi that they saw a dead body lying in the mosque. With the lockdown, they have not been opening mosques except for Friday prayers. They discovered the dead body around 3:20 pm close to prayer time.
An investigation into the matter has commenced. No arrest made so far. But police detectives attached to Kurmi Mashi are seriously on the issue." he said