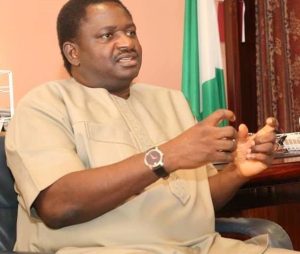 President Muhammadu Buhari's Special Adviser on Media and Publicity, Femi Adesina, has accused the Peoples Democratic Party of plunging Nigeria in backwardness from 1999 to 2015.
The presidential aide further stated that the opposition party does not have progressives content despite raising billions of naira for its head office, which it has been unable to complete it.
Adeshina in a statement entitled, 'A Good Setback by 60 Years,' noted that PDP has a "fixation with 60 years" but could only rule Nigeria for 16 years.
He further stated that since the party lost the presidential election to the All Progressives Congress in 2015, it has not stopped fantasying about 60 years.
Adeshina aide added that the statement credited to the spokesperson of PDP, Kola Ologbondiyan, that Buhari and his team "have taken our country 60 years backwards" showed the party's "neurosis with 60 years".
"And to think the party can't even complete its head office, despite raising billions of Naira, which developed legs and vanished."
He listed some of Buhari's achievements in the last five years including those in the Agriculture sector, noting that neighbouring countries now buy food from Nigeria.
He wrote, "We used to import everything. Even when we had a celebrated farmer as President, we brought in rice from all over the world, and beans from Burkina Faso. Maize, wheat, sorghum, millet, we imported everything. Fertilizer was one huge scam when we planted nothing."
"Then Buhari came. He told Nigerians to return to the land. And he put his money where his mouth was. Agriculture was massively funded, and today, we have pyramids of rice round the country. We no longer import any type of grains, rather our neighbours come to buy here. We are almost self-sufficient in food."