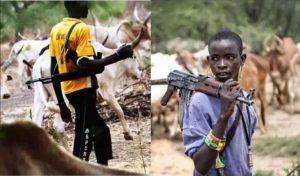 The Pan-Yoruba socio-political organisation, Afenifere has faulted statements by the Nigerian Immigration Service which claimed that there were no armed herdsmen in Nigeria as claimed in many reports.
Naija News reports that Muhammad Babandede, the Comptroller-General of the NIS was quoted on Sunday, February 14 saying that the country's borders are under control and that no armed herdsmen exist in Nigeria.
Reacting through a statement by its National Publicity Secretary, Yinka Odumakin, Afenifere described the NIS Boss' claims as a blatant lie.
According to the Yoruba organisation, "there is hardly any part of Nigeria you can drive a kilometre in the country today without seeing armed herdsmen.
Afenifere alleged the service is trying to confuse Nigerians with the claims which it insisted is false.
"It is clear there is a grand design to confuse the polity with false narratives. There is no truth in the NIS comment," Odumakin stated.
On its part, PAN Niger Delta Forum, PANDEF while reacting to Babandede's statement said it was better that Nigerians ignore his ignorant remarks.
According to the forum, the service boss was playing on the sensibilities of Nigerians.
PANDEF said "When people very clearly are being mischievous and try to play on the sensibilities of Nigerians, the best treatment to give to such people for their ignorance is to ignore them. Silence is the best answer to a fool. It is ridiculous for anybody to say that.
"It is a blatant lie and it is better to ignore him because he is just being mischievous," the PANDEF spokesman stated.
Also reacting to the NIS boss statements, the Igbo apex socio-cultural organization, Ohanaeze Ndigbo recalled that Governor Bala Mohammed of Bauchi State had earlier justified the need for herdsmen to carry weapons around.
Chief Alex Ogbonnia, Ohanaeze's spokesman while conversing with reporters on Sunday, said: "it was self-evident when the Presidency told Nigerians that people carrying out criminal atrocities which included the killing of farmers and raping of women across the country were foreign herders."
He reiterated saying, "Just about three days ago, Bauchi State Governor, Bala Mohammed, justified the need for herdsmen to carry arms. Secondly, when you said no foreign herdsmen, the Presidency affirmed that the herdsmen terrorising this country were foreign herdsmen that they were not Nigerians. That is for the Presidency.
Meanwhile, President Muhammadu Buhari has been called out by the Committee for the Defence of Human Rights for not attending to herdsmen issues in the country, Naija News reports.