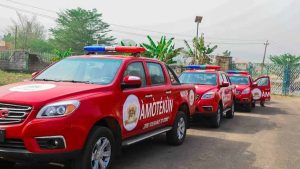 Former Minister of State for Niger Delta Affairs, Claudius Daramola, on Thursday, warned against giving the Western Security Network Agency, popularly known as Amotekun, an ethnic identity.
Daramola who threw his weight behind the security outfit said Amotekun would help address security issues affecting the region and Nigeria as a whole.
He stated this while speaking with newsmen during the revalidation of his membership of the ruling All Progressive Congress in Ode-Aye, Okitipupa Local Government Area of Ondo State.
The former minister said tolerance, understanding and a sense of patriotism are important in keeping Nigeria together, which is currently threatened by ethic suspicion and agitation.
He said, "The security outfit for the South-West, codenamed Amotekun, is a good development to check the level of insecurity currently facing the region, but the initiative should not be given an ethnic perception."
According to Daramola, Nigerians of different ethnic backgrounds are located in other parts other than their places of origin for many decades without any issue with the natives of those places, warning that events of the present days required deeper reflection.
He, however, commended the APC governors for the leadership roles they were playing in ensuring peaceful coexistence in the country in the heat of security challenges, adding that the APC administration had done well for the country.
"The APC administration has delivered its mandate to the people, that is the reason many bigwigs are revalidating their membership, while new ones from other political parties are joining the party," he stated.