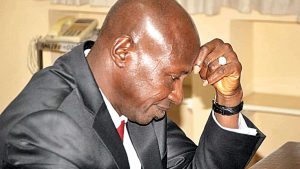 Unarguably, all is not well with Ibrahim Magu, acting chairman of the Economic and Financial Crimes Commission (EFCC) following his arrest on Monday by men of the State Security Service (SSS).
In our earlier analysis, we looked at what may necessitate his humiliation. Even when SSS and EFCC spokespersons claimed that the anti-graft agency boss was not arrested, reportorial evidence proved otherwise.
For the avoidance of doubt, Mr Magu slept at the police custody. Is he not still arrested? A person is arrested when he's deprived of liberty and free movement. That's exactly what Magu is passing through whether on handcuff or not. Besides, he was 'forced' or made to appear before the presidential panel, not at his own volition. That is ARREST.
Having set the record straight on arrest or no arrest, we may now talk about how the EFCC boss known to be a priest is now becoming the sinner. It didn't start on Monday when he was arrested. It is something that had long been into existence before he was even appointed by President Muhammadu Buhari.
The recent just happened to be a shock to Magu who may soon be removed. In fact, Naija News can authoritatively report that there are plans to replace Magu with either Muazu Zubairu – an AIG who was EFCC trainer under Nuhu Ribadu or Bala Ciroma – FCT Police Commissioner. All things being equal, Magu's end as the chairman of the anti-graft agency is near.
Just recently, the Attorney General of the Federation, Abubakar Malami (SAN) wrote a damaging report which bothers on corruption against Magu but President Buhari in his wisdom refused to act fast. With the recent happenings, one would wonder why the Bukola Saraki led Senate refused to confirm his appointment in 2016.
For neutral minds, it is becoming clearer that refusal of the Senate then to confirm him may not be a witch hunt. In fact, the recent happenings may not be a case of some persons trying to hunt the hunters. Of course, no doubt, he has stepped on toes and exposed many corrupt practices in Nigeria. But he may not be pure too. After all, the lecturer who was caught on tape demanding sex from a student in OAU two years ago is a Bishop. The same may be with Magu – a priest that may soon become sinner if indicted.
For the knowledge of readers, it would interest us to remind them that while Farida Waziri was overseeing happenings at EFCC in 2008, the same Magu who is being dragged today was alleged to be in the possession of some sensitive documents which were not supposed to be at his disposal and was later suspended. First, this is a stain on his 'integrity'.
Soon, in 2010, the Police Service Commission (PSC) found him guilty for withholding of EFCC files, sabotage, unauthorised removal of EFCC files and acts unbecoming of a police officer. He was jobless for months until Ibrahim Lamorde was made the EFCC chairman. Were all these part of the infractions in the DSS report of 2016 that made the Senate snubbed him? Indeed, if Magu is found culpable this time again, it means Buhari shielded him against national interest.
They said he (Magu) occupies a residence rented for N40m at N20m per annum. The sum was paid by one Umar Mohammed. Who is Umar Mohammed – he is a questionable businessman who has subsequently been arrested by the secret service.
The major question we should ask ourselves is: "if Saraki led Senate in 2016 refused to confirm Magu because they were trying to frustrate the anti-corruption efforts of the President Buhari, why has the National Assembly under the watch of Ahmad Lawan, not confirmed him?
Now that Malami has asked that Magu be removed for various corruption allegations including the diversion of recovered loot and re-looting of the recovered loot, will Buhari obey? Is Malami himself a saint? While we watch from the corner of our newsroom, NaijaNews anticipate the outcome of the panel questioning Magu – a priest on a date with fate.
If culpable, Buhari should do the needful.