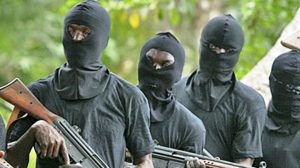 Some angry parents on Friday morning stormed the Government Girls Secondary School, Jangebe in Talata-Mafara Local Government Area of Zamfara where armed bandits earlier abducted some school girls.
Naija News learnt the angry parents pulled down doors and windows of the schools and demanded to take away their children who were not kidnapped by the bandits.
At first, security operatives and the school authorities out of security concerns tried preventing them from taking away the children but when the parents got violent and the situation started getting out of hand, they allowed the parents have their way.
The source, a teacher in the school who narrated the incident to Daily Trust added that some of the parents who trooped to the school and discovered their children were part of those kidnapped, slumped in the school premises.
The teacher said: "Initially, the school authorities prevented them from going with the remaining students but they got angry and began to pull down doors and windows of the buildings in the school and the authorities had to yield to their demands."
He added that the school has a population of about 600 students but no more than 50 students could be accounted for after the attack.
The teacher further disclosed that the gunmen who attacked the school had first attacked soldiers in the town before storming the school.
"When the gunmen laid siege, they attacked the soldiers stationed in the community before they gained entry into the school. Some people told us that they stationed vehicles at the outskirts of the school."
"Security Operatives and the local vigilante groups are trailing the gunmen and dozens of other residents have volunteered to take part in the search," he said.
Meanwhile, the Zamfara State Government has confirmed the abduction of female students of Government Girls Secondary School, Jangebe in Talata-Mafara Local Government Area of the state.
In a brief interview with newsmen in Gusau on Friday morning, Commissioner of Security and Home Affairs, Alhaji Abubakar Dauran, said the abductors invaded the town and took away the students at about 2am.
The commissioner added that the state government cannot give information on how many students were taken away by the gunmen.
Dauran asserted that the government has already mobilized security men and members of the vigilantatè who are now in pursuit of the abductors.