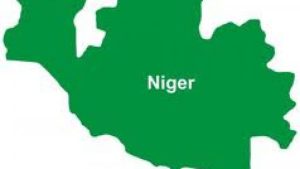 Some irate youths on Tuesday attacked and destroyed the private residence of the Niger State Deputy Governor, Alhaji Ahmed Mohammed Ketso located in Minna.
The youths are reportedly angry because some shops located in the mini-market alongside Brighter Road were pulled down by the state urban's development board but the Deputy Governor's house located in the same area was left untouched.
The youths also lamented that owners were not given any notice before the shops were destroyed leading to the loss of goods worth several thousands of naira.
The shop owners however claimed they were not part of the destruction but the youths who carried out the act were sympathetic to their loss, hence the decision to destroy the Deputy Governor's residence.
The Nation reports some of the youths were still around when it visited the location.
When contacted, however, the acting General Manager of the Niger State Urban Development Board, Muhammed Daba explained that all affected traders were duly notified before the shops were pulled down.
"We have notified them earlier to remove the illegal structure before we started the demolition and by law, we are not obliged to notify them because if you are occupying an illegal piece of land that is not yours, that you don't have any right on as far as government is a concern, it would be removed.
"However, we are very magnanimous enough to write them earlier through vacation notice for many months but the COVID-19 delayed us till this time, if not it would have been carried out long before now," he said.
Daba added that some of his men who were attacked by the angry youths have been hospitalized and currently receiving treatment.
The development was also confirmed by the Niger state Public Relations of the Nigeria Security and Civil Defence Corps, Nas Abdullahi.
"They were indeed attacked but none of the security officers at the scene was affected because they overpowered the youths. But one of the drivers of the board was affected and he has been taken to hospital where he is receiving treatment," he said.
Meanwhile, one Samson Ibiweh and his accomplice Philip Chirer have been arrested while attempting to blow up a petrol pipeline in Edo State.
Naija News understands that the two young men were apprehended by men of the anti-kidnapping and cybercrime unit of the state police command.
Confirming the report to reporters, Festus Alenkhe revealed that the two had been on the list of most wanted notorious criminals in the state.
Alenkhe disclosed that they were nabbed along Ofunama Road in Ovia South-West local government area of the state while they were heading to Ofunama forest to blow up the Petroleum Pipelines so they can siphon the products for sale. He revealed further that the suspects snatched an AK49 military rifle with ammunition from military personnel operating in Nigeria's Niger Delta region.