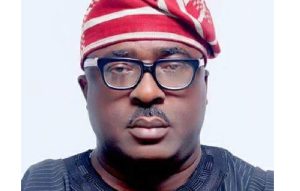 My Life Is In Danger – Hillard Eta Cries Out
The All Progressives Congress factional Chairman, Hillard Eta has raised an alarm that some thugs are making attempt to end his life.
Eta who made this known on Wednesday via a telephone chat alleged that the National Working Committee (NWC) had got information that some thugs were sent from Port Harcourt, Rivers State to come and burn down the APC National Secretariat in Abuja.
"We got information that they are going to send thugs from Port Harcourt and that they are coming here to burn the Secretariat and make it look like the National Working Committee instigated a fire incident so that the Secretariat will be burnt down and then, they will give the impression that it is the NWC that is burning down the Secretariat."
He also revealed that the thugs are going to make an attempt to kill him and he will file a report to the Police but would be done after clearing from his colleagues.
However, in a reaction to the development, the other factional chairman Victor Gaidom asked Eta to report to the appropriate authorities and stop raising an unnecessary alarm.
He also said it will be a difficulty for any thug to come over to Abuja due to the COVID-19 interstate ban.
"Ordinarily, I would not have reacted. If he has such information, let him report to the Police. The police have the capability to track such persons. Maybe that is his plan because we all know that there is a ban on interstate movement and it is difficult. He should report to the police if he has any such information except of course he is the one planning to bring in people from Calabar", he stated.