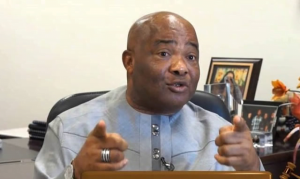 Governor Hope Uzodinma has been condemned by the South-East APC Youth Integrity Group, over the alleged marginalization of founding members of the All Progressives Congress in the state.
The socio-political organization berated the Imo State Governor over the ill-treatment meted on the former Governor of the state, Rochas Okorocha, Senator Ifeanyi Araraume, Prince Madumere and Ugwumba Uche Nwosu.
The group further stated that many of the founding leaders of the party in Imo State have been left behind in party decision-making and sensitive appointments.
The group in a statement released through its president, Chika John Uzondu and its spokesperson, Martins Oputa, noted that it is the reaction to prevent a crisis with the state chapter of the party and South-East zone as a whole.
According to the body, "The crisis that has engulfed APC in Edo and Ondo States may replicate itself in Imo if the Governor does not immediately take steps to arrest the ugly trend of festering mistrust, disunity and humiliation meted to critical leaders of the Party in the state."
"Also, as founding youth leaders of the All Progressives Congress in the South East, who stood in defence of the party's interests, even when it was most unpopular to do so in our part of the country, we feel it is expedient to call your attention to some salient issues in the party, in your State. Imo, being the only state in the South-East under the APC, should have been the state where the party is most vibrant in the region, but we have observed most, unfortunately, that this is not the case."
"While, you may have emerged as the governor through your personal efforts and those of your very close associates in Abuja and elsewhere outside Imo State, we must remind you that you wouldn't have been made governor if some people had not sacrificed time and resources to build the APC on whose platform you became governor. If these individuals had not sustained the party in the State, especially, within the seven months of PDP's stint in power, you wouldn't have seen anyone celebrate your hard-fought and controversial victory at the Supreme Court with you".
Meanwhile, the state Governor after his inauguration noted that a reconciliation committee has been put in place to reconcile aggrieved members.
He said, "Twenty-seven members of the House of Assembly, 25 are now APC members, they have decamped to APC. So APC is building and the momentum is growing by the day. So the issue of reconciliation is being given serious attention. Nobody will be left out".