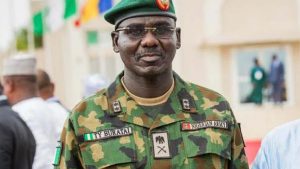 The Chief of Army Staff, Lt. Gen. Tukur Buratai, has been called on by the former army chaplain, who was dismissed for having sex with a stranded lady while guarding a church to review the decision and reinstate him into the Nigerian Army.
The Lance Corporal, attached to 1 Division Chaplaincy Services (Protestant), Kaduna, in his appeal before Buratai noted that he was tried by a Muslim, Major Jimoh, instead of the chaplain officers.
He was accused of sleeping with an unidentified lady who solicited financial assistance from him, while he was on duty at the Protestant Church, Camilla Barracks, Kaduna, on October 16, 2013.
A further report revealed that the lady was denied access to a patient by the management of the 44 Reference Hospital, Sabo, on the grounds that she was late to work.
Following this, the dismissed chaplain reportedly promised to pay the lady N3,000 to have sex with her, but after having his way, he gave her N2,000, which led to an argument.
The lady report the case to the military authorities, which put him on trial for conduct prejudicial to service discipline and dismissed him from service.
In a letter to the CoAS dated July 7, 2020, by his lawyer, Johnson Oyewole, the ex-chaplain also complained that he was detained in the guardroom for 30 days before his dismissal.
The letter read in part, "He was put on mock trial with the offence of conduct prejudicial to service discipline and punishable under Section 103 (1) of the Armed Forces Act, Cap A20, LFN, 2004. He was charged before Major Jimoh, who dismissed our client on January 21, 2014, thereby truncating his chosen career at the embryo stage."