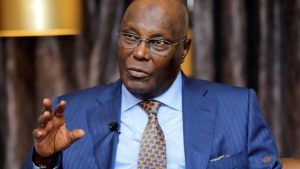 Former Vice President of Nigeria, Atiku Abubakar has reacted to the release of 53 passengers abducted by bandits from the bus belonging to the Niger State Transport Authority (NSTA) in Kundu village.
In a statement on Twitter on Sunday afternoon, the Niger State Governor, Abubakar Sani Bello, said all abducted passengers were released due to a series of dialogue and consultations.
The governor also received the 53 passengers at the Government House at exactly 11:15 pm yesterday, in four 18-seater buses.
He noted that before releasing the victims to their families, they would have to undergo medical checkups and evaluations.
Governor Bello thanked God for their safe return and also appreciated the people for their prayers.
Reacting to the development, Atiku expressed happiness with the release of passengers, thanking those who worked in synergy towards their release.
He asked the federal government to do much better in ensuring that travelers are not kidnapped again.
The Peoples Democratic Party (PDP) chieftain noted that he is anxiously looking forward to the freedom of Kagara students too.
In a post on his Twitter handle on Sunday evening, Atiku wrote: "I am happy with the release of Passengers on a Niger State Transport Authority (NSTA) bus who were abducted. I am grateful to all who worked in synergy towards their release.
"However, we need to do much better in ensuring we don't perpetually travel this road again. I'm anxiously looking forward to the freedom of #KagaraStudents too."
I am happy with the release of Passengers on a Niger State Transport Authority (NSTA) bus who were abducted. I am grateful to all who worked in synergy towards their release.

— Atiku Abubakar (@atiku) February 21, 2021
However, we need to do much better in ensuring we don't perpetually travel this road again. I'm anxiously looking forward to the freedom of #KagaraStudents too.

— Atiku Abubakar (@atiku) February 21, 2021