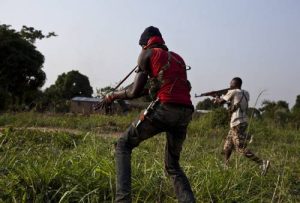 Gunmen suspected to be bandits have kidnapped Alhaji Ibrahim, the 91-year-old traditional ruler of Kunduru community in Katsina State.
According to sources, the traditional ruler was abducted on Friday night and whisked away to an unknown destination by gunmen who stormed the town on motorcycles.
Galadiman Kunduru is the father of a permanent secretary in the Katsina Governor's office, Alhaji Kasimu Ibrahim, popularly known as Simo.
Gunmen suspected to be bandits also kidnapped 12 women in the Faskari Local Government Area of the state.
The women were said to be travelling to Funtua from Mai Gora to collect loans provided by a bank through a family support programme.
Residents said the bandits had yet to contact any of the relations of the victims as of press time.
Meanwhile, renowned Islamic cleric, Sheikh Abubakar Gumi has listed some of the conditions the bandits want to be met before releasing the abducted Kagara students.
Speaking in an interview with The Punch, Sheikh Gumi stated that he did not discuss any payment of ransom with the bandits.
The Islamic cleric revealed that the bandits are demanding the release of their comrades in the custody of security agencies.
Gumi said: "They have just four people in detention, and they are asking for them. They also need assurance and that is why we are calling for amnesty for them. They have been fighting for a long time; it's been more than eight years."
"These people are fighting for their existence because when they go to town they are lynched when the police see them on the road, they arrest them; sometimes they are executed extrajudicially, so they took arms against the state. When you give them amnesty, all of them will drop their weapons."