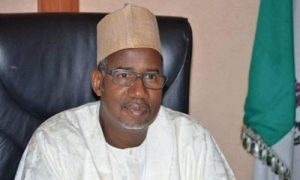 The Bauchi State Governor, Bala Mohammed has approved the sum of N32m for the vaccination of 800,000 cows in the state.
The Governor disclosed this on Wednesday at the launch of the 2020/2021 annual livestock vaccination campaign held at the Galambi Cattle Ranch.
The sum will cover staff participating in the exercise, purchase of materials needed and the actual vacinnation of the cattle, Naija News understands.
In his words, "We have released over N32m for this exercise which will cover vaccines, equipment and allowances for our staff to do this exercise."
The Ministry for Local Government has been directed to pay the allowances of all the participating staff in the 20 local government areas, as well as to purchase more materials to vaccinate more than 800,000 herds of cattle." he said.
As previously reported by Naija News, the Governor at the same event also appealed to Fulani herdsmen not to carry or use AK-47 guns.
The Governor begged the herdsmen to remain peaceful even if they face any provocation.
He praised the simplicity of the Fulani herders, appealed to them to ignore his figurative allusion to the use of AK-47 guns and always show their humane and peaceful character.
Mohammed promised to continue to defend them against any form of criminal profiling just as he has always done.
In his words: "What I will do, I will not say it here, but I will do everything possible to make sure I protect you and lend support to you because I know you mean well.
"Through time and history, you have been seen to be cajoled, and lampooned but you remained humane, you remained simple, you don't show so much aggression and of course, that humility is always what we recognized and this is what a character that should always try to show.
"Please, don't carry the AK-47 that I made a figurative allusion to. Try to make sure that you remain peaceful."
Meanwhile, Governor Bala Mohammed of Bauchi State has urged the Benue State Governor, Samuel Ortom, to prove his claim that he is sponsoring terrorism.
Recall that Ortom has accused the Bauchi governor of being a member of the Fulani terrorists terrorizing Nigeria.
The Benue state governor also stated that Bala Mohammed should be held if anything happens to him.