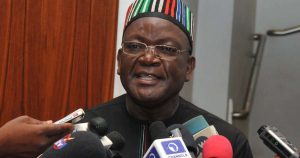 Governor Samuel Ortom of Benue State has said Governor Bala Mohammed of Bauchi is a member of the Fulani terrorists terrorising Nigeria.
Recall that Mohammed had slammed the Benue governor accusing him of creating bad media campaign against the Fulani ethnic stock.
He also said Ortom has criminalising the entire Fulani ethnic stock across the country.
Reacting in a press conference in Makurdi on Monday, Ortom said, "Since he (Mohammed) has chosen to vilify and intimidate me. I am compelled to think that he is one of the Fulani terrorists terrorising this country.
"Why did I say so? This is the same governor who took an oath of office to protect the constitution of the Federal Republic of Nigeria.
"The constitution does not give room to allow foreign armed Fulani herdsmen, Tiv people or Yoruba or any enthnic groups to come in and to carry arms but Bauchi governor said that every Fulani man is a global man so he could go anywhere at any time.
"It is quite disappointing to hear a governor who took an oath of office say that. May be he should go back and rehearse the oath of office he took whether allowing foreign Fulani terrorists to come to Nigeria protects the institution of Nigeria."
The Benue governor also said that the land use act permitted governors to have sole authority over lands.
"The land use act permits governors to have the sole legal right. I have the sole authority over lands whether in the forests or anywhere.
"He (Mohammed) should go back and read the land use act. As governor in your state, you hold the land on behalf of the people," Ortom said.