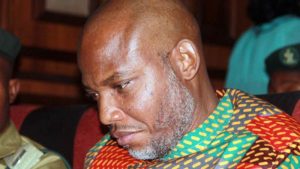 Mazi Nnamdi Kanu, Leader of the Indigenous People of Biafra, (IPOB) on Tuesday unveiled a new design for the agitation of Biafra.
The IPOB leader who took to his Twitter account on August 18 to share the new design.
Kanu noted that the newest design which comes with an acknowledgement of the group's ERI heritage is beautiful and thought-provoking.
However, the new design has been rejected by some IPOB members who believe the new design doesn't represent their agitation of Biafra.
While others believe the symbol on the new design is religious oriented.
That inscription is not accepted because it is not Biafra in nature .

We are not loyal to any religion or nation but to GOD ALMIGHTY.

I say no and am sure millions of Biafrans will say so drop it

— Nnamdi UK not (United Kingdom) maka ndi nzuzu (@Igbo_Speaker) August 18, 2020
Just like the zoo ..when they use Islamic inscription on our coat of arm… now u went to put Israeli and Jewish incriptuon..whT of oda churches or are we going to be mandated to become Jews and leave our Christian faith in biafra?

— DaddyPringles (@UdokoguQross) August 18, 2020
The Judaism sign on it isn't cool. Unless all other possibly major religions of the IPOB is included on the flag.
We must uphold the freedom of association & beliefs

— Chivuzọ (@OkSydney) August 18, 2020
Rejected.
We are not Jews. No matter how hard you push it.
And please research the true symbolism of the six point star.
David never had a star.
It is the biggest symbolism in satanim and demonic worship.

— nyeWawa (@africatt) August 18, 2020
Some other members of IPOB supported the development
Bro this is star of David, this is not about religion but it reminds you where we came from NRI . Let's stop this religious bickering it has divided us enough

— E B E R E (@EbereAkunyio) August 18, 2020
Beautiful star & Seal to acknowledge ERI Heritage is highly welcome indeed. I thought this older design of the Rising Sun without the curved line (arc) above would be nicer than the curved line (arc) above. pic.twitter.com/M1QsElzVLV

— ♚Udo Chukwuemeka♚ (@SaintOgonus) August 18, 2020