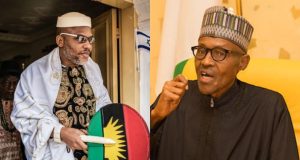 Mazi Nnamdi Kanu, leader of the proscribed Indigenous People of Biafra (IPOB) has blamed the rising cases of unrest across several states in Nigeria on the failure of the government to satisfy its citizens.
Kanu said this in reaction to the recent protests in Katsina state over the spates of killing and destruction of property in the state by bandits and other insurgents.
Kanu in his statement warned that if the Government does not rise to address the insecurity, more protests will occur in other states, including Sokoto.
The IPOB leader also questioned and condemned the arrest of the convener of the Katsina protest, Nastura Sharif who led the protests against the unending killings of people in the area.
"The people of Katsina protested something that is even their right as is being done around the world in the name of "black lives matter", the organizer of the same protest in Katsina, Nastiwa Sharif, was arrested.
"Amnesty International has reported that they have arrested this man because he is crying out about the killing of his people by bandits. What is happening today we foretold it, and we knew they will happen".
"For the first time in the history of Nigeria, the indigenous people of Katsina have risen up and have asked for a state of emergency."
Kanu threatened that if the federal government doesn't call IPOB for negotiation, a repeat of what happened in Katsina State will be experienced in Sokoto State.
"If the Federal Government does not call him and IPOB to discuss Biafra exit, with what happened in Katsina, they will lose Sokoto also," he said, adding that "very soon, you are going to lose your emirate in Sokoto if you keep delaying people's right to separate".
While condemning the killing of Christians in the north by people he termed 'Fulani cabals,' Kanu noted that the government must move to stop the killings immediately because it will be fatal if retaliation is allowed to occur.
The IPOB leader also blamed Christian leaders for being too silent on issues that concern their members, urging them to speak out against bad governance, injustice, killings, and other atrocities going on in the country.
"The problem with the churches in Nigeria is that you are just about money; you keep quiet with all the happenings in the country. You don't condemn the killings in Nigeria."