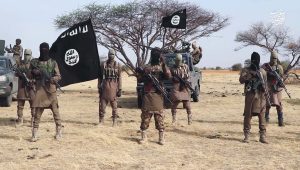 Boko Haram insurgents on Thursday abducted travellers along Damaturu-Maiduguri Road.
Military sources that spoke with SaharaReporters on the incident noted that the terrorist group attacked travellers at Garin-Kuturu near Auno in Konduga Local Government Area of Borno State at about 1:30 pm.
It was disclosed the insurgents who were dressed in military uniforms placed a roadblock on the highway with five Hilux vans before taking away the passengers.
The gunmen also set ablaze two vehicles, a Volkswagen Golf and a Peugeot car.
"Some of the passengers fled into the bush but most of them were abducted. Two vehicles were also set ablaze. Other passenger vehicles belonging to the abducted travellers were also abandoned at the scene while their properties were looted."
"As soon as we were alerted, we mobilised to the area and engaged them (Boko Haram terrorists) for about an hour. The road was then cleared for other travellers to pass."
In a related development, the Boko Haram terrorist group has issued a 7-day ultimatum for the government to meet its demands or kill a pastor, Bulus Yakuru whom they abducted in December 2020.
The pastor was said to have been abducted when the insurgents attacked Pemi village, close to Chibok on the eve of Christmas in 2020.
He has since being in their custody despite earlier appeals from him through videos released by the group in December 2020 and again in January 2021 for the government and the Christian Association of Nigeria (CAN) to come to his rescue.