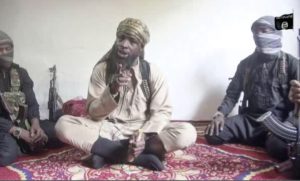 The leader of the Jama'atu Ahlussunnah Lidda'awati Wal Jihad faction of Boko Haram, Abubakar Shekau, in fresh audio released on Thursday mocked troops of the Nigerian Army.
In a video in which only a voice believed to be his could be heard with his pictures and scenes from the North, Shekau who spoke in Hausa claimed responsibility for the bomb explosions that rocked Maiduguri, the Borno State capital on Tuesday.
Shekau said an infiltration team carried out the attacking, stressing that the Nigerian military has failed to put his group in check.
He also dissociated himself from a farm reportedly belonging to him that was recently burnt by the Nigerian military.
Recall that in a trending video online, the Army had claimed to have discovered a farm belonging to Shekau in Sambisa forest.
Shots were fired in the air as the security operatives jubilated their little victory over the Boko Haram faction.
"Shekau where are you? See us on Shekau's farm inside Sambisa. Shekau king of noise-making where are you? Come out now and see if we will not waste you.
"This is Shekau's farm inside Sambisa. Villagers take as much of the products as you can after all it is yours.
"Shekau, see us on your farm, we are going to have our Juma'at prayers on your farm," one of the troops had mocked the Boko Haram leader.
But Shekau on Thursday dismissed reports by the army that he has a farm in Sambisa forest
On many occasions, the militant leader has embarrassed the Nigerian government and military for claiming victory over his group.
The army had on several occasions claimed that it had killed Shekau, but each time it pronounces him dead, the militant resurfaces in an audio or video messages to not only debunk such claims but taunt the military.
In 2014, the Nigerian Army claimed he was killed by the Cameroonian military during a Boko Haram attempt to capture Kodunga, a small village north of Maiduguri.
The Cameroonian military backed this claim by releasing a photo of Shekau's supposed corpse on social media.
But shortly after, he appeared in a video, mocking those who claimed responsibility for his death.
Recall that a captured Boko Haram fighter had also revealed that an attack by the Nigerian military has crippled the leader of the insurgence, Abubakar Shekau.
Naija News reports that the leader of the faction of Boko Haram has not been seen on his feet lately as he has released video where he is seen sitting or in some cases.
According to The Cable, Mohammed Adam, a teenage fighter, who is in the custody of troops of 195 battalion of the Nigerian army, says Shekau can no longer walk effectively.
In a video, Adam said Shekau got injured during an aerial bombardment on an insurgents' camp in Tumbuktu, Sambisa forest and can no longer lead any operation physically.
The teenage fighter said he was abducted by Boko Haram at the age of 10 while working on the farm in Firgi, Gwoza local government area of Borno.