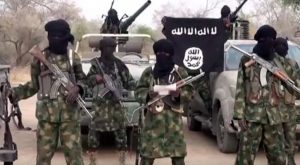 a pregnant woman living in Amtchali village at the outskirt of Mora town in Cameroon was shot dead .
Naija Newslearnt that the insurgents looted about 15 houses before leaving the village.
The injured woman who died while receiving treatment in a hospital in Mora.
Following the Armed forces' continuous assault on the Islamist militants, the jihadists have stepped up raids on villages along the border, looting homes and abducting women.
On Thursday, August 28, the terrorists attacked an IDP camp in Kolofata at night making away with foodstuff and other valuables.
However, in a related development, Men of the Nigerian Army from the 177 Battalion and the command Army Records Lokoja, with supports from local vigilante, have cleared the camp of Darusallam, a terror group that has been carrying out its heinous operations on the border between Kogi and Nasarawa States for over eight years.