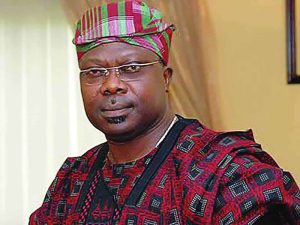 Former deputy governor of Osun State, Senator Iyiola Omisore has arrived at his hometown of Ile-Ife to defect to the ruling All Progressives Congress (APC).
Naja News reports that Omisore arrived at his polling Unit at Ward 6 in Ile-Ife at 12:40 PM with Osun State deputy governor, Benedict Alabi, the APC Caretaker Chairman, Prince Gboyega Famodun and other chieftains of the party.
The former Senator, who was the Peoples Democratic Party's governorship candidate in 2014, lost out to Rauf Aregbesola of the APC in the election.
He also contested the same position in 2018 on the platform of the Social Democratic Party (SDP), but he came a distant third behind Senator Ademola Adeleke of the PDP and Adegboyega Oyetola of the APC.
Omisore later joined forces with Oyetola during the rerun election that resulted in the victory for APC.
Meanwhile, the spokesperson of the Nigeria Army, Brigadier General, Mohammed Yerima, has denied the report that the military is benefiting from terrorism.
Islamic cleric, Sheikh Ahmad Gumi, on Thursday alleged that military authorities are not interested in end terrorism in the country because they making billions of naira from it.
But during an interview, Yerima said the cleric is entitled to his opinions.
"We are just coming into this regime, when I say we, I mean the presence of the Chief of Army Staff, how many days has he spent as Chief of Army Staff? We are giving our best to the country."
"We don't know what Gumi is saying that we are benefiting from the insurgency, all we know is to protect the lives of Nigerians, our duty is to protect the territorial integrity of Nigeria."
"I don't know who the beneficiaries are, what is our benefit? Is he talking about buying equipment? Is it going to our pocket? It's not, the equipment is to fight insurgency. I think it's unfortunate, we respect him, we don't want in any way to be confrontational with him."