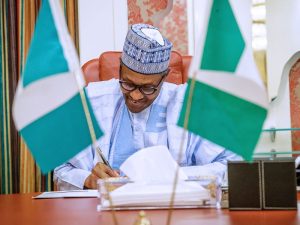 President Muhammadu Buhari has allegedly appointment more political aides and loyalists into top positions at the Department of Petroleum Resources (DPR).
Sources have revealed that Buhari reportedly appointed three serving aides and a political player in the ruling All Progressives Congress (APC) to separate positions at the highly-courted oil and gas sector regulatory body.
According to PeoplesGazette, Gambo Manzo, Abubakar Barde and Abba Dansarari who are currently serving as aides to the president on political affairs and social investment programmes at the State House were appointed into the DPR last month.
While Jamil Sadauki, a youth leader in the APC, also got a position at the DPR at the same time as other aides of the president.
However, Manzo and Barde denied receiving such appointment when reached for comments by the Gazette on Tuesday night.
Sadauki and Dansarari did not return requests seeking comments about their new appointments.
According to sources, Manzo was appointed to supervise the DPR's upstream monitoring and regulation department.
Manzo, originally from Gombe but lived extensively in Lagos where he played active politics, is a 2002 graduate of the Federal College of Education Gombe. Prior to his appointment as a presidential aide in 2015, he worked as an executive officer at Apapa Local Government Area for seven years starting in 2008.
PeoplesGazette learnt that Barde, has been working at the presidency with Ismaeel Ahmed, a senior special assistant on National Social Investment Programme (NSIP) to Buhari.
Barde was tasked with managing DPR's basinal assessment/lease administration unit, presidency, agency and intelligence officials revealed.
Barde, who hails from Taraba but underwent his tertiary education at Bayero University Kano, is a former special assistant to erstwhile sports minister Solomon Dalung.
He also worked at MTN Nigeria between 2009 and 2015, according to a profile he submitted at DPR, and was asked to lead the unit that evaluates oil production licenses in Nigeria.
Dansarari, another aide to Ismaeel Ahmed, was sent on secondment to the office of the director/chief executive officer of the DPR.
Sadauki, who hails from Dutsin-Ma Local Government Area of Katsina, holds no official portfolio at the State House, he is nonetheless a familiar personality to Villa officials, especially those around Vice President Wing.
A graduate of business administration from the University of Abuja in 2013, he was appointed into the elite team of the DPR's environment, health, and safety department.
Recall that the online newspaper had recently revealed that President Buhari reportedly appointed his personal assistant on New Media, Bashir Ahmad, to supervise a top division at the DPR.
Ahmad, 29, recently hustled his way in as the head of the newly-established National Production Monitoring System (NPMS) of DPR – four officials at the presidency and DPR told PeoplesGazette.
"Bashir got the appointment early January, but his documentation took place last week," a State House official familiar with the appointment said. "It was delayed following the death of one of his friends, Jamilu Ibrahim Shinkafi, in an accident along Bauchi-Nasarawa Road, precisely in Akwanga in Nasarawa."
The fatal auto crash was said to have occurred whilst the deceased was returning from the wedding of Ibrahim Rabo, an aide to communications minister Isa Pantami on January 31.
"It was the wedding that Bashir was seen amongst those not on face masks," the official said. "So they deferred the conclusion of his documentation by a week before it was finally concluded last week.
But Ahmad in his reaction via a statement on his Twitter account, debunked the news, describing it as totally false.
"A friend sent me a link to a concocted story from an online news blog that the President has quietly appointed me as a manager of the DPR, a department of Ministry of Petroleum Resources, for those who want to know the truth, the story is 100% FALSE. I am not a staff of the DPR," he wrote.