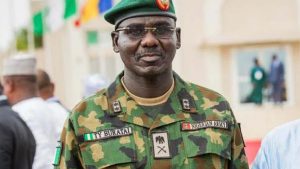 Former Chief of Army Staff, Lt-General Tukur Buratai (rtd), reportedly escaped an ambush by members of the dreaded Boko Haram insurgence three times.
Naija News reports that this was made known by Major Daniel Banjo, (retd.), a former coursemate of Buratai on Saturday.
Banjo revealed this while speaking at an interfaith prayer organised for the former Amy Chief by the Olowu of Kuta, Oba Adekunle Oyelude, in the monarch's Kuta, Osun State palace. The event was attended by dignitaries from within and outside Osun State.
Buratai, who was represented by Banjo and Wing Commander Mamman Yusuf (retd.), said Nigerians did not appreciate his efforts contain insurgents.
Banjo said, "I remember, about three times, he (Buratai) called me in the middle of the night. He was at the warfront. He would call and say things are happening here and Nigerians are not appreciative of what we are doing.
"He wouldn't sleep for weeks. He was ambushed three times and he jumped into the bush with his men, with Kalashnikov (AK-47 rifles) and they would be able to kill some and arrest some."
Also speaking at the event, Oba Oyelude said the people of the community would remain grateful to Buratai for the assistance he rendered towards the completion of a bridge linking the community to Ede.
The Olowu said, "For decades, several prominent political office-holders have tried to help us construct the Ede/Kuta Bridge, but they could not. However, on bringing the request before Lt.-Gen. Buratai, he granted it and ensured it was built.
"This is enough of an achievement for me as a monarch. The bridge is almost 100 years old, and now, the communities in this area have been linked and the villagers are now liberated."