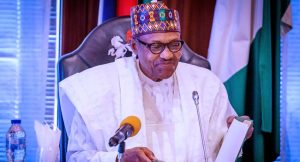 Nigeria's ruling party, the All Progressives Congress, APC, has boasted of fulfilling its campaign promise of restructuring the country within the time-space in its tenure.
According to the party in an in-house monthly magazine reportedly made available on Monday, August 31, steps which had already been taken by President Muhammadu Buhari towards the implementation of the report of 2014 National Conference and the report of the Kaduna State Governor, Nasir El-Rufai-led APC committee on true federalism was enough proof that restructuring has begun.
Naija News understands that the submission was contained in the September edition of the in-house monthly magazine of the APC titled 'Calm Down! The restructuring has begun'.
APC further accuses the previous government of wasting billions of taxpayers' money to hold national conferences with the reports and recommendations of such conferences not implemented.
"President Buhari has taken steps to implement a part of the recommendations of the 2014 National Conference as well as those of the 2017 Governor Nasir El-Rufai-chaired APC committee on True Federalism, which came out with far-reaching recommendations," the publication noted.
It added that President Buhari has implemented recommendations including poverty reduction and social inclusion as well as economic diversification.
"With these aforementioned fundamental reforms being introduced into the nation's polity already in place, and with many more still in the pipeline, Nigeria under President Muhammadu Buhari is on the path of an irreversible political and economic rejuvenation. To the advocates of restructuring, calm down, the exercise has begun in earnest." The publication.
In another news, the Imo State Governor, Hope Uzodinma, has been accused by pensioners in the state of molesting them, using the Department of State Service, DSS.