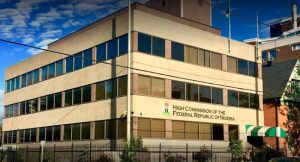 The Nigerian Embassy in Canada has complained that the country is preventing students and other Nigerians from entering the country unfairly.
Addressing a gathering hosted by the office to celebrate Nigeria's 60th anniversary of independence, the Nigerian Ambassador to Canada, Adeyinka Asekun, said the two countries were working to resolve the issue and ensure that Nigerians were respected in the country.
"What is most important about this agreement is that it is likely to address a situation in which a lot of Nigerian citizens are being denied visas when they should actually have been granted the visas," he said.
The ambassador said many Nigerians were interested in going to Canada for education but were denied entry unfairly.
Canada is one of the top destinations for Nigerian high school students, due to the high number of strikes in Nigeria's tertiary education system.
Ambassador Asekun said the crisis will be historic once the new agreement goes into effect between countries that have long benefited each other since 1960.
He commended Canada's contribution to Nigeria in particular in setting up the Communicable Disease Laboratory in Lagos in 2014, when there was an outbreak of Ebola. The laboratory assisted in the fight against COVID-19.