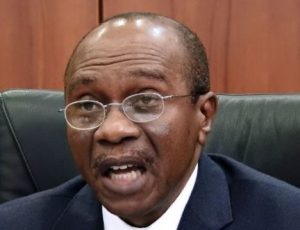 Nigerians have tackled and disagreed with the governor of the Central Bank (CBN) Godwin Emefiele after a video of him describing cryptocurrencies as money created out of thin air emerged online.
The CBN governor in his speech also submitted that users of cryptocurrencies operate in an electronic dark world so they can't be traced.
He added that those who use it do not want a trail and this makes financial regulators 'scared' of cryptocurrencies and their users, hence the need to regulate its usage.
It will be recalled as previously reported by Naija News that the CBN recently ordered banks in the country to shut down the accounts of cryptocurrency traders.
The CBN in its directive, told Deposit Money Banks (DMBs), Other Financial Institutions (OFIs), and Non-Bank Financial Institutions (NBFIs) local financial institutions to stop any transactions in crypto or facilitating payments for crypto exchanges.
The apex bank in the circular signed by Director of Banking Supervision, Bello Hassan, and Director, Payments System Management Department, Musa I Jimoh warned that disobedience to the directive will attract sanctions.
Explaining why it banned cryptocurrencies, the CBN said it is based on its determination to protect Nigeria's financial system from activities of "fraudsters and speculators," noting that its directive is in the best interest of Nigerians.
However, after the video of what the CBN governor recently said about cryptocurrencies during a briefing went viral, Nigerians have taken to Twitter to mock him and the government.
Below is the video and some reactions from Nigerians.
CBN governor briefing on Cryptocurrency.

— Munachi Ogueke (@MunachiOgueke) February 24, 2021
I'm just thinking about how other countries would be damn scared of investing in Nigeria.

If the CBN governor thinks like this.

— Onyeka || WaterTank 10× (@HelironT) February 24, 2021
I am just rolling on the floor
How did this man become CBN Governor?

— J U S T I N K A Y C E E (@JustinKayceee) February 24, 2021
That CBN Governor is very unintelligent
From that his speech you can see why our economy is where it is right now
He couldn't even use Google to carry out his research on Cryptocurrency he just read everything from Jehovah witness manual

— Roviel (@ObongRoviel) February 25, 2021
*Me, thinking of how I'm going to hasten my Canada visa, after listening to what the CBN governor said on cryptocurrency* pic.twitter.com/RnurgBjJdZ

— Baller G ♚ (@spunky_niga) February 25, 2021
I don't think the CBN Governor fully understands the concept of money…. But hey, he can do no wrong. He is the CBN Governor.

Lool out of thin air.

— Morris Monye (@Morris_Monye) February 25, 2021
Somebody need to tell the CBN Governor that Nigeria was also created out of thin air.

— omoyeni (@onabanjosamuel) February 25, 2021
CBN Governor banned crypto transactions with Nigerian banks because money created out of thin air and the idea of DECENTRALIZATION doesn't sit right with him,this country is a badly written joke

— Dehkunle of Africa (@Dehkunle) February 25, 2021
Former CEO of Zenith Bank and current CBN Governor, Godwin Emefiele needs to read from a handout to explain cryptocurrency for Nigerians? No wonder the economic policies are based on trial & error with a touch of Insha'Allah.

— Sammy Sammy (@scad_official) February 25, 2021
The CBN was pushing for Cashless policy before. We accepted and embraced cryptocurrency. Now CBN Governor says its money created out of thin air because they dont get their stupid charges from the transactions. You go finish one pack of Bigi watching naija as a movie

— Salman (@NotJustSalmanPR) February 25, 2021
Your CBN governor said cryptocurrency is created from thin air
I am rolling.
This man has children oooo
May our parents not disgrace us like this in public sha

— Valar Morghulis (@anwan_ab) February 24, 2021
CBN Governor Emefiele an Alumnus of Havard talking about Cryptocurrency like an illiterate making it seem like Anti Christ's Currency. Mans talking about Dark World when we haven't had constant light for 60 years, you are worried about the wrong DARK WORLD

— Odogwu (@Daddy_Nomso) February 25, 2021
Why is a whole CBN governor reading from a book just to describe a crypto

Kwantinue disgracing your ancestors pic.twitter.com/gkqMHuPaVj

— Matthewsax (@Matthewsax1) February 25, 2021
The CBN governor Godwin Emefiele speech on cryptocurrency has to go down as the biggest joke of 2021.

I wonder where Buhari got his guys from oh well even Lai Mohammed is a minister.

— BENUEGIANT (@one_dosh) February 25, 2021
CBN Governor went all voodoo about crypto currency because he knows Nigerians can be religious extremist , so he wants to push a 666 narrative to get some people in his side.

Our government can be childishly manipulative, its embarrassing to see

— Enachioke (@Frank_LeanXV) February 25, 2021
This is the CBN Governor comments on Cryptocurrency.

He says "cryptocurrency is money put of thin air"

Pls dear finance experts, bankers, trade analysts, economists, crypto traders and anyone who is very informed on this topic: kindly help respond to this.

Sense or no sense? pic.twitter.com/FQC69U2p5y

— #OurFavOnlineDoc (@DrOlufunmilayo) February 25, 2021