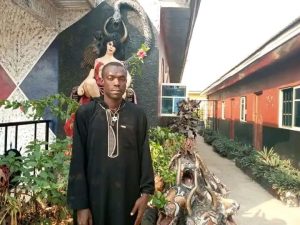 The Church of Satan has dissociated itself from the church and activities of the Church of Lucifer in Abia State, Nigeria.
It will be recalled Naija News earlier reported that the supreme leader of the Church of Lucifer in Nigeria, Mr. Ifekwe Udo has been arrested by the Nigerian Police force.
Udo claims to have the power Satan has. He is known to use voodoo power on his members.
The assembly known as the Light Bearer Greater Church of Lucifer located in Ohafia, Abia State was locked down and vandalized by the youths of the community.
Reacting to the development after some people called the attention of the Church of Satan to the development, it maintained that the demolished church, as well as the leader, are not a part of its set up.
It noted that Udo is just a scammer.
Their statement noted that: "This has nothing to do with us or Satanism. As we've repeatedly warned people, avoid scammers like this, and get accurate information."
It also added that: "People who can read will note that "The Assemblies of Light Bearer Greater Church Of Lucifer" is not "The Church Of Satan."
This has nothing to do with us or Satanism.
See their tweet:
People who can read will note that "The Assemblies of Light Bearer Greater Church Of Lucifer" is not "The Church Of Satan."

This has nothing to do with us or Satanism. https://t.co/Snf8Rgb39I

— The Church Of Satan (@ChurchofSatan) July 8, 2020