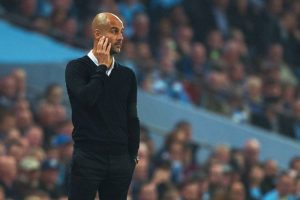 Racism on black people has for a few weeks now received condemnation across the world following the death of a black American, George Floyd. Not left out in the protest is English Premier League club manager, Pep Guardiola who recently condemned the act and speak on way forward.
The 49-year-old former Spanish player who currently manages Manchester City said in a recent interview, that the whites should apologise for how they have regarded the blacks over the years.
It's a month since George Floyd was murdered by Minneapolis policemen over an alleged tender of fake notes, Naija News recalls. The disturbing incident triggered anti-racism protests by the blacks all over the world as the word 'Black Lives Matter' became an anthem sung by concerned individuals, organisations and authorities both the white nations and Africa at large.
Speaking on Wednesday night after a clash between Manchester City and Arsenal at Etihad Stadium, Guardiola lamented on how racism has become a trend among the whites. The manager submits that he is "ashamed of what white people have done to black people".
The former Barcelona FC coach admitted that he wants a change when it comes to racism all over the world.
He said: "White people should say sorry for the way we have treated black people for 400 years. We should send a thousand million messages for the black people. I'm embarrassed and ashamed of what the white people have done for the black people."
He added, "How people can think they are different? All the gestures are good and positive. Everything we can do to make it conscious, it is not acceptable. We have to do a lot of things for the black people which we have not done so far,"
Naija News, however, understands that City trashed Arsenal to 3-0 on Wednesday night as EPL season game resumes.
In another news, German international striker Timo Werner is set to leave RB Leipzig club for Chelsea. Cost of the operation: € 60m, Naija News reports.