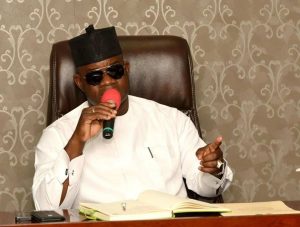 The Governor of Kogi State, Yahaya Bello, has said that corruption is solely responsible for the security challenges facing the country.
Bello made this known on Saturday when he received a team of ex-Nigerian internationals, led by Augustine Eguavoen.
Other members of the team are Austin "Jay Jay" Okocha, Victor Agali, Taribo West, Ifeanyi Udeze, Victor Ikpeba, Tijani Babangida, and Garba Lawal.
The governor said corruption is the bane of security in the land and the new EFCC chairman's vigour and youthfulness will help in the fight to curb it.
He also hailed President Muhammadu Buhari for appointing a youth, Abdulrasheed Bawa as the Chairman of the Economic and Financial Crimes Commission (EFCC).
"Mr President so much listens to us that he agrees that the bane of development is corruption.
"One of the factors responsible for insecurity today is corruption. Funds meant for development and funds to fight insecurity are being siphoned using one subhead or the other.
"But Mr President who listens to the calls and yearnings of the youths appointed one of us to head the Economic and Financial Crimes Commission EFCC and you are going to see the magic wand in the fight against corruption because Mr Bawa knows that the future lies squarely on the shoulders of the young generations.
"So, we will do everything possible to assist Mr Bawa to succeed on the job," Bello said.