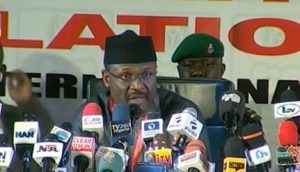 The Independent National Electoral Commission (INEC) has denied reports of underage voting during the local government elections that took place last Saturday in Kano State.
On January 16, Nigerians took to social media to condemn the electoral body for allowing children to vote in the local government elections that took place in the state.
But in an interview with The PUNCH on Tuesday, Director, Voter Education, and Publicity, INEC, Nick Dazang, said that no underage voters participated in the polls.
He said there were no underage voters on the register it handed over to the Kano State Independent Electoral Commission (KSIEC) for the elections.
Dazang noted that INEC conducted elections in Kano State in 2019 without reports of underage voting, adding that this was proof that its register could not have been used in the local government elections in Kano.
He said, "We have made earlier clarifications in the past that our voter register does not have anyone below the age of 18 so that is that. I don't know the voter register they used in Kano. I will have to find out but the register of voters we have and which state independent electoral commissions use cannot have anyone less than 18 years old.
"Don't forget that we have not conducted any voter registration since the last election and it is the same register we used in the 2019 general election that we are still using because we have not added anyone and before the conduct of the last elections, we returned all uncollected PVCs to the vaults of the CBN across the state.
"And I want you to observe that we conducted elections in Kano in 2019. We conducted Presidential, governorship, state assembly and federal legislative elections in Kano and there were no reports of underage voting in 2019."