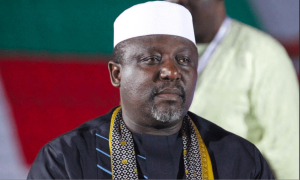 The federal high court sitting in Abuja has rejected the request of Senator Rochas Okorocha who is seeking to stop the Economic and Financial Crimes Commission (EFCC) and the state probe panel from investigating him on alleged financial infractions as the governor of Imo State.
Naija News Understands that Justice Ahmed Mohammed stroke out the appeal after Okorocha's counsel pleaded with the court to invoke restraining order stopping the parties in the suit from going ahead with the probe, pending the determination of the matter.
Though counsel to the 1st defendant (EFCC) was not in court, the counsel to 2nd to 48th defendants, J.M. Madu, quickly interjected that the probe panel had not commenced sitting.
Promising to inform the Attorney-General of Imo about the development, Madu urged them to respect the court and not to begin sitting until the suit was determined.
Justice Mohammed then held that it would be of no use to grant a restraining order since Madu had undertaken to tell the parties not to go ahead with the probe pending when the matter would be determined. Besides, the judge held that since the EFCC was not represented in court to hear its side of the story, it would be unfair to grant the request in the interest of justice.
Naija News Understands that Okorocha was dragged in a corruption scandal bordering on various alleged financial infractions he was alleged to have committed as a governor of Imo state.
The former governor of Imo State, Rochas Okorocha, was also accused of diverting over N6 billion from the Imo State Oil Producing Areas Development Commission (ISOPADEC).