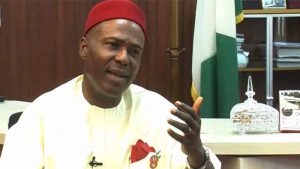 President Muhammadu Buhari-led government on Thursday revealed that the Nigerian government has developed RNA-Swift, a test kit for the identification of SARS-CoV-2, the causative agent for COVID-19.
The Federal Government in a statement noted that the decision was to accelerate the capacity to test people and help effectively manage the coronavirus pandemic.
The development was announced by the Minister of Science and Technology, Ogbonnaya Onu, during a press conference in Abuja.
He said, "The RNA-Swift has amazing precision for the detection of SARS-COV-2 and will be commercially available at a price that places it ahead of competitors in terms of sensitivity and affordability."
The minister while speaking with newsmen noted that in a few months time, five million farmers across the country would be tested with the RNA-Swift kits from the first 10 million kits to be produced.
"I want to confirm to you that the RNA-Swift product team is in consultation with the African Development Bank for the funding of an African-wide testing programme for COVID-19 and the establishment for RNA-Swift production in Nigeria," he stated.