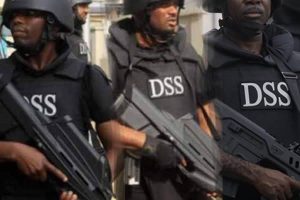 One Prince Mohammed Momoh has been paraded by the Department of State Services (DSS) for allegedly demanding $50,000 from a Bayelsa man to secure an appointment as Special Assistant to President Muhammadu Buhari on Oil and Gas.
This was disclosed on Tuesday by the spokesperson of the DSS, Peter Afunanya at a media briefing in Abuja.
The suspect, 40, married with 2 children hails from Kogi state.
The DSS described Momoh as the head of a syndicate specialising in dropping the names of senior government officials to fleece unsuspecting Nigerians for phantom positions in and outside the government
Momoh alongside three others scammed Benson Aniego from Bayelsa State, claiming to be working for the Chief of Staff to the President and that $35,000 of the amount would go to the CoS while the balance of $15,000 would go to others.
He said: "We arrested Prince Momoh in a sting operation conducted on July 28, 2020 and we want to alert the public that the syndicate has no connection whatsoever with the Chief of Staff to the President or any other official of the government at any level.
"The head of the syndicate, Momoh, only exploited his former position as an aide to a top Presidency official and started to defraud unsuspecting Nigerians. He has no relationship with any Presidential official as we speak.
"That is why we are pleading with Nigerians to desist from falling victims to fraudsters who continue to drop the names of top government officials for pecuniary gains. We will continue to fish them out and expose them for what they are: fraudsters and nothing more."
During confession, Prince Momoh, who served as an aide to a Presidency official between 2013 and 2015, said he only collected a curriculum vitae from someone he wanted to help to secure a job but did not know he would end up in what he called 'unfortunate situation'.