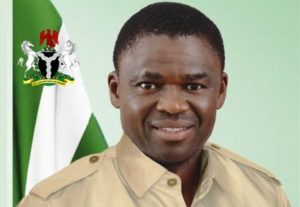 Philip Shaibu, the Deputy Governor of Edo State, has said that the Peoples Democratic Party (PDP) will always find a way of resolving issues rocking the party.
Recall that Naija News had earlier reported that Kenneth Imasuagbon, a PDP governorship aspirant in Edo State rubbished claims that he has decided to step down for Edo state Governor, Godwin Obaseki.
Imasuagbon stressed that he plans to win, not just be a part of people who contested.
"The governor knows that I'm popular with the delegates, and he is doing everything possible to change this.
"For the sake of emphasis, I have not and will not consider accepting anything to step down from the race for the PDP ticket.
"I also understand that they are trying to manipulate the delegates' list in their favour. I want to warn that if they try it, we will do everything possible to resist it, we shall also meet in court," Imasuagbon had said.
Responding to questions on the aspirants in the party who have refused to step down for Obaseki on Channels TV, Philip Shaibu said Imasuagbon will step down and support the Edo State Governor.
The deputy governor stated that Imasuagbon wants the PDP to win and he knows Obaseki is the party's best bet.
Shaibu said: "Obaseki did not take the other aspirants in the PDP for granted. When we joined the party, he went round asking for their support.
"Kenneth Imasuagbon is a very good man that I know also understands politics and a man that definitely would want PDP to win.
"He is a man that listens to the majority of the people. So if the majority of the people speak to him to support the Governor, I tell you, he will not even need to go to court.
"But I can tell you that the family of PDP that I've seen these few days that I've here is a family that knows how to resolve its disagreement.
"One thing I found in PDP is that they have a way of quickly resolving issues, what I have seen with them is completely different from where I am coming from (APC).
"This Governor (Obaseki), is a popular one and everybody in Edo wants him to come back and continue the good work he is doing.
"I suffered to build APC, if I look back and see what I have laboured for. But what I am happy about is that I am happy to consolidate and make history on the issue of godfatherism in Edo State."