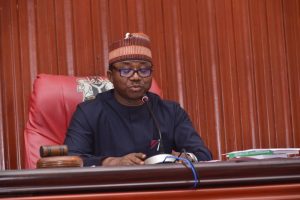 Rt. Hon. Francis Okiye, the Speaker of the Edo Assembly, has said the 14 members-elect not yet inaugurated, no longer have seats to occupy in the assembly.
Speaking during the Edo assembly's Tuesday plenary in Benin, Okiye stated that their seats have been declared vacant.
The Edo Assembly Speaker asked the general public to ignore the 14 elected lawmakers.
He said the affected members-elect have lost their status and rights, following their refusal to be inaugurated.
Hon. Okiye described their purported inauguration in a private residence as illegal.
"The Governor, following the provisions of the Constitution of the Federal Republic of Nigeria, issued a proclamation for the first session of the assembly on June 14, 2019," he said.
"The Clerk of the House issued a notice to all members-elect to attend the first session on June 17, 2019 and the house was duly convened and inaugurated."
"But the above-mentioned members refused to present their certificates of return and also refused to present themselves at any sitting of the house to subscribe to the oath of office as members."
The Edo Assembly Speaker named the members as Victor Edoror (Esan Central Constituency), Washington Osifo (Uhumwode), Vincent Uwadiae (Ovia North East), Kingsley Ugabi (Etsako East) and Michael Ohio-Ezomo (Owan West).
Others were Sunday Aghedo (Ovia South West), Chris Okaeben (Oredo West), Crosby Eribo (Egor), Aliyu Oshiomhole (Etsako West 11) and Oshomah Ahmed (Etsako Central).
Also listed were Ganiyu Audu (Etsako West 1), Ugiagbe Dumez (Ovia North East 1) Uyi Ekhosuehi (Oredo East) and Eric Okaka (Owan East).