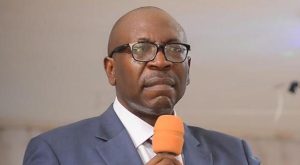 Justice Taiwo Taiwo has withdrawn from the suit seeking for the disqualification of the governorship candidate of the All Progressives Congress, Osagie Ize-Iyamu from the September 19 Electoral process.
The development was disclosed by the judge on Thursday during the hearing of the case.
Justice Taiwo further stated that he has rescued himself from the case following a petition filed by the APC accusing him of being a close friend with Governor Nyesom Wike of Rivers State.
He further stated that he has returned the case file to the Chief Judge of the court, Justice John Tsoho, for re-assignment to another judge of the court.
Recall that in a petition to the Chief Judge of the Federal High Court, Justice John Tsoho, the APC said it has no confidence in getting justice in his court.
APC in the petition dated August 20 by the National Secretary of the Caretaker Committee, accused Justice Taiwo of moving faster in the hearing of suit against Ize-Iyamu by granting abridgement of time to plaintiffs in the matter when the motion for same had not been moved.
The party alleged further that Governor Wike had openly boasted that he would do everything humanly possible to ensure that PDP wins the poll by influencing the disqualification of Ize-Iyamu through the court.