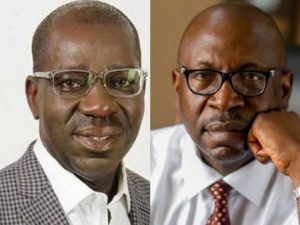 The Media Campaign Council of the All Progressives Congress (APC) in Edo for the September 19 governorship election has berated the scorecard of performance of the Incumbent Governor.
They also described Governor Godwin Obaseki described Obaseki as a confused governorship candidate, who lacks administrative skills and frittered away his goodwill.
Chairman of the council, Prince John Mayaki, in a statement, revealed that "Obaseki's re-election campaign is an assault on commonsense, decency and ethics as he has failed to articulate his achievements in the last four years. Mayaki also noted that the incumbent governments always run for re-election on their achievements and records in office but not in the case of Edo.