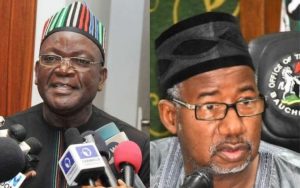 Governor Nasir El-Rufai of Kaduna State has weighed in on the disagreement between the Benue state governor, Samuel Ortom, and his Bauchi counterpart, Bala Mohammed over the activities of herdsmen.
Naija News reports that governor  Ortom has accused the Bauchi governor of being a member of the Fulani terrorists terrorizing Nigeria.
Ortom also condemned his colleague for saying that he was responsible for creating a "negative perception of Fulani herders".
Addressing reporters in Makurdi, Ortom stated that Bala Mohammed should be held if anything happens to him.
Reacting to the comments, governor Mohammed has asked Ortom to prove his claim with substantial evidence that he is sponsoring terrorism.
The governor made this known in a statement on Wednesday signed by his Senior Special Assistant on Media, Mukhtar Gidadoto.
Speaking with newsmen at the National Secretariat of the All Progressives Congress (APC) Thursday in Abuja, El- Rufai said the disagreement between the two governors was a difference in opinion and not a fundamental issue..
He noted that the altercation between the two governors will soon stop and the Northern Governors Forum will find a solution to the movement of herders across the country.
He said: "I just left Kaduna state. We had a meeting of the Northern state governors, Bauchi state governor and Benue state governor were there. So, it will be sorted out. It could be differences in option but definitely it is not fundamental.
"We are all committed to solving the problem of movement up and down by the herders because once we solve that problem, the clashes between farmers and herders will reduce significantly.
"It will be sorted out, there will always be differences in opinion but not fundamental. The Northern State Governors Forum is committed to ending the normadic movement of cattle and people in the shortest possible time and we are all working."