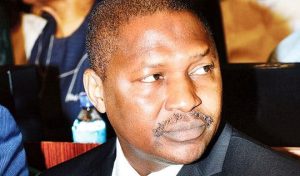 The Minister of Justice and Attorney-General of the Federation, Abubakar Malami, is secretly sponsoring a bill before the National Assembly with the aim of taking over the affairs of the Economic and Financial Crimes Commission.
According to Sahara Reporters, the bill tagged "An Act To Repeal The Economic And Financial Crimes Commission (Establishment) Act, 2004 (Act No. 1 Of 2004) And Enact Economic And Financial Crimes Agency Act" if passed into law will allow the office of the AGF to interfere with the anti-graft agency's investigation.
"The Attorney-General may after notifying the agency, intervene in the proceedings, at first instance or on appeal, where in the opinion of the Attorney-General, public interest, the interest of justice and the need to prevent abuse of legal process so demand."
"On receipt of the notice under subsection (2) of the section, the agency shall handover to the Attorney-General the prosecution file and all documents relating to the prosecution and provide him with such other information as he may require on the matter within the time specified by him."
"The agency shall furnish returns of all cases handled by it annually and in such manner and at such intervals as the Attorney-General shall direct. Where the agency fails to comply with the provisions of this section, the Attorney-General may, subject to prevailing circumstances m, revoke the power to prosecute from the agency."
"The staff of the Prosecution Department of the agency shall be seconded or transferred from the Federal Ministry of Justice or from such other agencies or private institutions as may be approved by the Attorney-General," part of the bill reads.
See the documents seen by Sahara Reporters below: