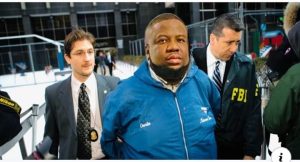 A picture of Ramoni Igbalode Akanni popularly known as Hushpuppi depicting the moment of his arrest has gone viral on the internet.
Two weeks ago the internet went into a frenzy after the news of the arrest the Dubai based Nigerian Instagram sensation Ramoni Igbalode Akanni popularly known as Hushpuppi broke.
There have been numerous claims pinning his arrest to the Interpol while some other reports claimed that the arrest was made by the Federal Bureau of Investigation (FBI). This, however, is not the bone of contention in this report.
He was said to have been a part of a Nigerian scam ring who stole $35million COVID-19 Stimulus cash through fraudulent unemployment benefits.
Two weeks after his arrest, the American government is yet to release any official statement about his arrest, however, there have been several photoshopped images of the internet fraudster, the most popular being the one uploaded below.
The image has been used on several blogs and websites with several inaccurate or false headlines like this one here, here, here, here and here as well as on Facebook and on Twitter here, and here.
Verification
Naija News conducted a reverse image search on Google and Tinyeye to traced the original image that was modified and we came up with the image below:
The original image first appeared on the Wall Street Journal website in 2017, and it is the picture of a man who was arrested for gun-running and drug trafficking. The image was modified to depict Hushpuppi in FBI custody.
As at the time of filling in this fact check the American government or its security apparatus are yet to release any official statement or images relating to his arrest.
Verdict
The image above and other ones uploaded and depicting the arrest of the internet fraudster Ramoni Igbalode Akanni otherwise referred to as Hushpuppi are false.