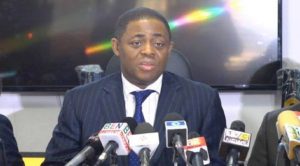 Former Minister of Aviation Femi Fani-Kayode has condemned the recent clashes between northerners and host communities in the South-west.
In a post on his Twitter page, Fani-Kayode warned that "storm is gathering and it will soon be unleashed"
He wrote: "What you are witnessing is the silence before the storm. The storm is gathering & it will soon be unleashed. The Kraken will come with the Tsunami.
"When they hit nothing will stand in their way & nothing will ever be the same again. Time & process is everything. Patience."
The former minister had earlier commended Governor Seyi Makinde of Oyo state for quelling the ethic crisis that engulfed Shasha market and community.
Fani-Kayode wrote: "Had it not been for the visit of the 4 northern Governors & the remarkable efforts of Gov. Seyi Makinde & his team who were up all night monitoring the situation, appealing to the warring communities & disarming angry youths all hell would have been let loose in Bodija today."
Recall that three people were reportedly killed in a clash between Hausa speaking people and the Yorubas at Shasha Market.
It was learnt that the disturbing event led to the destruction of shops and properties by hoodlums who took advantage of the clash. It was reported that residents were forced to flee the troubled area around 5:30 pm.
Some lucky residents were said to have hurriedly picked a few clothes with them as they were unsure whether the violence would not escalate. Confirming the report to newsmen, police operatives revealed that one person died in the attack, contrary to the claims by traders.
Following the clash, Governor Makinde shut down the market and declared a 24-hour curfew in the community.