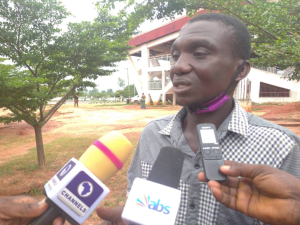 A 43-year-old father has blamed the devil for sexually assaulting his daughter while her mother was in the labour room to deliver another child.
According to the man whose name is given as Ikechukwu Ekenta, he usually acts in strange manners whenever the evil spirit comes upon him.
Naija News understands that the man who is a resident of Ikeduru- Ogwah, in Mbaitolu Local Government Area of Imo state was arrested for allegedly using his sleeping with his 3-year-old daughter, Kamsiyochukwu Ekenta while her mother is passing through labour pains at a hospital.
Confessing to the crime, Ekenta while interrogated at the professor Dora Akunyili Women Development Center in Awka, said he started behaving abnormally when the evil spirit possesses him.
He revealed that he had used his finger on the little girl when the sexual urge came upon him.
On her part, Uzoamaka Ekenta, the mother of the young girl while reacting to the incident explained that she gets wind of her husband's evil act after she had returned from the hospital. According to her, she noticed that her daughter was acting strange as if she is enduring some kinds of pains while bathing her.
She noted that the girl, Kamsimyochukwu, confessed to her that the father penetrated her while she (the mother) was not at home.
Mrs Ekenta further revealed that she confronted her husband and confessed to the crime, noting that he only used his finger on the girl. However, the girl was carried to a hospital for examination and it was confirmed that Mr Ekenta used his manhood and not his finger as he claimed.
The woman who just delivered another child said she narrated the incident to her husband's parents but stopped her from telling anyone, threatened to deal with her if she attempts to do so.
Narrating the horrible experience, Kamsimyochukwu said her daddy put his 'komkom' meaning his Penis on her private part while she was resting on that faithful day, adding that it was the pain that woke her up.
The Commissioner For Women And Children Affairs, Lady Ndidi Mezue, while reacting to the rape incident condemned the father, noting that he has committed an abominable act, condemnable in all ramifications.
She, however, revealed that Mr Ekenta has been arrested by the men of the Department of State Services, DSS with the help of residents.
In another development, a 35-year-old housewife, Omolara Seriki, a resident of a community in Osun State has damaged the scrotum of her husband, Raheem Seriki following a disagreement between them on alleged infidelity, Naija News reports.