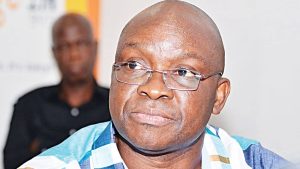 Former Governor of Ekiti State, Ayodele Fayose has dismissed reports that he is plotting to join the All Progressives Congress (APC).
Speaking on Wednesday during the PUNCH Live interview, the former governor said he has no plans to leave the Peoples Democratic Party (PDP).
Answering questions on his rift with Governor Seyi Makinde, Fayose said he has no plan to join the APC or any other political party.
"We need certain level of honour, we need certain level of principles to be able to lead in this country," he noted.
"Even when I was supporting Governor (Kayode) Fayemi in Ekiti, I told them I can never join APC in my life. It was Governor (Segun) Oni that disrespected me and I worked for Governor Fayemi. If Governor Makinde continues to disrespect me like this, I will work against him. I don't operate underneath; you know where you are with me. If Governor Makinde wants to hear the story of how he became governor, I will tell him," the ex-governor added.
Fayose warned Makinde to stop disrespecting him and give him the respect he is due.
The former governor threatened to work against the re-election of Makinde if he continues to disrespect me.
He said he was amongst party chieftains who worked in 2019 to ensure Makinde emerged the winner of the governorship election in Oyo, urging Makinde to speak out if he has anything against him.