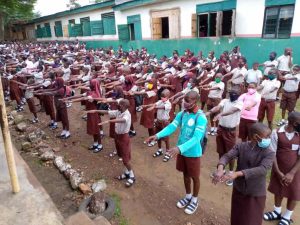 The President of the Nigerian Medical Association, Prof. Innocent Ujah, on Monday, stated that the decision of the Federal and State Governments to reopen schools is not back by data.
Prof Ujah further stated while speaking on Channels TV, that government are sentimental in their decision to reopen schools.
He added that the government has decided to turn a deaf ear on the advice of medical experts on COVID-19.
He said, "What lessons have we learnt one year after? If we say that students should go to school, what facilities have we put in place? Our problem is that we do a lot of talking doing very little. It is also true that we do not listen to experts. What we have been saying is that this coronavirus is totally unprepared for."
"We know that children will go to school, we know that they should maintain the NCDC protocols, but what have we done in the schools? Nigeria is an interesting country, full of contradictions."
"Whether it is private or public, an injury to one is an injury to all. What I know is that we have no statistics on schools that are ready. Whether it is private or public and what they should put in place."
"I think we are very sentimental in making this decision as a nation. Let us follow the advice of experts. While we are saying that schools should be reopened, we should be prepared and there should be monitoring and supervision. We talk and we don't supervise."
Meanwhile, some schools in some states like, Lagos, Kwara, Abuja, Ogun and Nasarawa state have resumed academic activities for the second term of the 2020/21 academic year.