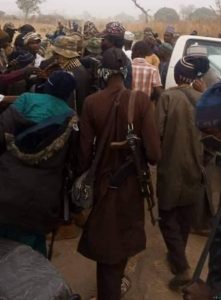 The abductor Of the students of Government Science Secondary School, Kankara, Katsina State, Auwal Daudawa, has denied the allegation that some foreign Fulani takes part in banditry in Nigeria.
In an interview with Daily Trust, Daudawa said the abduction of Kakara schoolboys and other kidnappings in the North East were done by local Fulanis.
He said: "t is not true. We did not work with any foreigners. Whatever happened was by the indigenous Fulani.
"There is nowhere we don't have our people.
Speaking on the abduction of Kankara schoolboys, Daudawa said his group never collected ransom before releasing the over 300 abducted students.
The repented bandits, however, challenged anyone who has contrary evidence to speak up.
"After the abduction, you could see that I was not difficult to come around during talks because I did not do it because of money. If it were for money, I would not have released them even for N2 trillion. The whole world knows, if I was given the money it would be known, if I was not given it is also known. It cannot be hidden," he said
Meanwhile, the Minister of Information and Culture, Lai Mohammed, on Saturday, noted that President Muhammadu Buhari-led government will not pay ransom to secure the release of the abducted students and members of staff of Government Science College, Kagara.
Mohammed stated this while speaking on Channels TV on Saturday.
The minister when asked whether the government had paid ransom or was considering the payment of ransom, the minister said, "No".
He added, "We employ kinetic and non-kinetic (measures), you don't throwaway invitation to engage but the overall strategy you keep to your chest."
The minister also said the government won't tolerate any form of criminality in any form.
There have been speculations that the government had paid a huge amount of money to secure the release of the Kagara abductees.