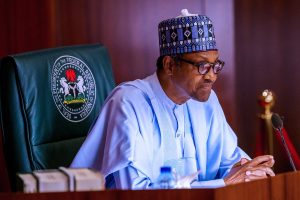 Popular Nigerian Clergy, Bishop Abraham Chris Udeh has revealed that God is angry with  President Muhamadu Buhari for negotiating with the dreaded bandits.
In his post-fasting and prayer message released on Thursday, Udeh said he saw God in a vision looking very angry with Buhari for proscribing the Indigenous People of Biafra (IPOB).
The clergy asked the President to declare the killer herdsmen and bandits as terrorists and clamp down on them or else the wrath of God would descend heavily on them.
He also advised Buhari to de-proscribe IPOB within three months from now, alleging that the government has given armed Fulani bandits free hands to operate in the country, thus engaging farmers and other Nigerians in incessant bloody clashes.
He said "It pains me that the Federal government had continued to allow herdsmen to be armed with dangerous weapons with which they attack innocent and unarmed citizens and still go scot-free, adding, it is ridiculous that government is unable to block the source of their arms and ammunition and yet declare these armed herdsmen a terrorist group and be treated as such
"Look at the way the Fulani herdsmen terrorize the Southern part of Nigeria including the South East and their mission is to Islamize the country. We all know that but it can't work out. I assure them that the God of Ndigbo and God of Israel will strike all those who are behind that action.
"I will draw the hands of God and as it was in the days of Nebuchadnezzar who was punished because of his atrocities so shall it be again in our generation. The God of Heaven has never changed and can never change. The God of Abraham, Isaac, and Jacob is still alive and He will never allow them to Islamize this country as they have planned."
He berated some Igbo leaders who he said were busy taking trips to Abuja in pursuit of their aspiration for 2023 Nigerian president of Igbo extraction "while Fulani herdsmen are killing, raping, and maiming their people."
Udeh told the 2023 presidential aspirants in Igbo land that their efforts would be in futility unless they were ready to cede their lands for Fulani settlement.