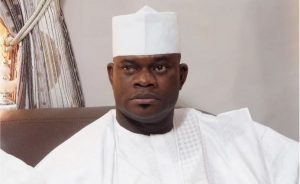 Governor Yahaya Bello of Kogi State has shuffled his cabinet as he makes new appointments.
The governor's new appointment which follows the sacking of one of his aides was disclosed in a statement made available to newsmen by the Secretary to the State Government, Mrs Folashade Ayoade Arike.
The SSG confirmed that governor Bello has relieved Ayo Ariyo as his Senior Special Assistant on Security in charge of Kabba Bunu Local Government Area.
Arike further revealed that the governor has approved the appointments of Mohmoh Abdul Lasisi as a Personal Assistant to take the place of late Hon. Suleiman Abdulateef Adinoyi.
The Senior Special Assistant to the Governor on Political Matters, Kabba /Ijumu Federal Constituency, Olorunleke Moses was approved to also occupy Ariyo's position while Adeyemi Olabode John will assume Moses' former position.
The governor ordered that the newly appointed aides should immediately assume their duty.
Meanwhile, the Peoples Democratic Party, PDP, has urged President Muhammadu Buhari to call to order Governor Yahaya Bello of Kogi State over his approach in handling issues of COVID-19 in the state.