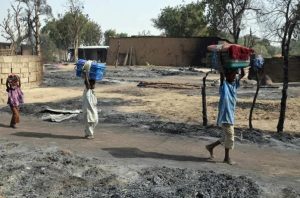 Reports from Katsina State say that armed bandits attacked villages in Sabuwa Local Government Area killing three people on Monday night.
Residents said the attackers also took away about 50 people, mostly women and children, during the attack.
A local resident told the BBC that bandits had broken into shops and stolen goods, money and livestock, and that of the 46 people abducted, most were women and children.
He said the attackers had been following villages one by one, looting people and property without fear as security forces were far away.
The Sabuwa Local Government Area of ​​Katsina State, which borders Birnin Gwari in Kaduna State, has been hit hard by militant attacks.
The latest attack was carried out by gunmen in more than five villages on Monday night.
In related news, Benue State Governor Samuel Ortom said his Bauchi counterpart Bala Muhammad should apologise to Nigerians for his remarks that herdsmen should take up arms in self-defence.
Governor Ortom made the remarks while addressing newsmen at the State Government House in Makurdi, saying the comment was unnecessary and an indication that Mohammed was among those terrorising Nigerians.