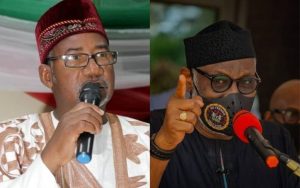 Governor Bala Mohammed of Bauchi State has stated that Nigerians do not need the permission of Governor Rotimi Akeredolu or any other governor to reside anywhere.
Speaking on Friday while appearing on Friday on Channels Television's Sunrise Daily' programme, Mohammed herdsmen don't need any governors permission to live in any forest in the South-west.
He said, "Land is in the hands of the state and federal governments in trust but Nigerians don't need the permission of governors or the federal government to settle everywhere. You don't need the permission of the governor of Bauchi or the governor of Ondo to be in the forests of Ondo if you choose to live in the forests because under Section 41 of the constitution, you are free to settle anywhere."
Speaking on his backing of Fulani herdsmen carrying AK-47, the Bauchi State governor said "when we mention AK-47, it is a figure of speech, the issue is protection, self-help, you must protect yourself".
"The Fulani man is so exposed, dehumanized and demonized. He is being seen as a bandit and so anywhere he goes, his commonwealth which I call his cows are being taken and rustled and sometimes they are fined beyond your imagination and then he has no option than to protect himself," he added.
Naija News recalls that in his bid to flush out killer herdsmen, Akeredolu had asked all Fulani herders residing in Ondo forest reserves to vacate and register with the state government.
Reacting to Akeredolu's ultimatum, Bala Mohammed had said Fulani herdsmen carry firearms to protect themselves against cattle rustlers who attack, kill and take away their possessions, adding that the Ondo governor lacked the constitutional right to evict herders.
The Bauchi governor had also slammed the South-west for refusing to accommodate herdsmen.
He noted that the north has over the years accommodated westerners, stressing that Fulani herdsmen have the right to live anywhere as Nigerians.